Due to icy road conditions, Mount Pleasant Public Schools are closed for Friday, November 18.

Families, Please note the lunch menu change for Friday 11/18/2022.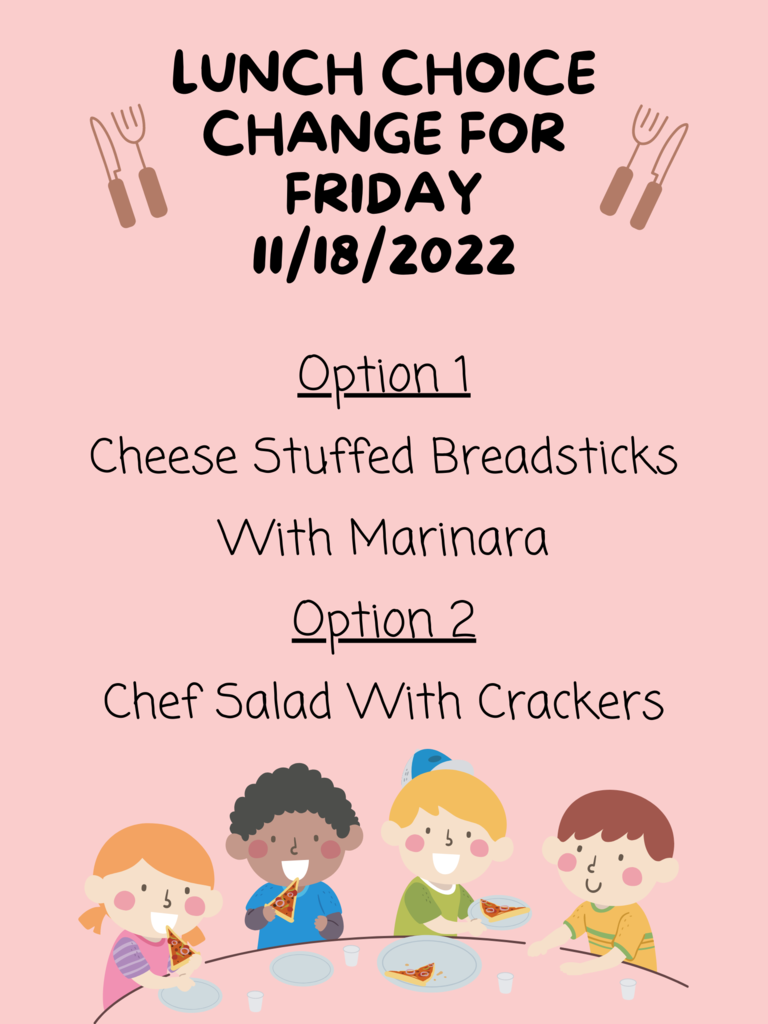 Due to icy road conditions, Mount Pleasant Public Schools are now closed for Thursday, November 17.

Hello Parents/Guardians, If your child is missing any clothing items we may have them in our lost and found. You may come and take a look at the lost and found items before school from 8:00 a.m. - 8:30 a.m. or after school from 3:30 p.m. - 4:00 p.m. Any items that are not picked up by Christmas break will be donated to a local organization.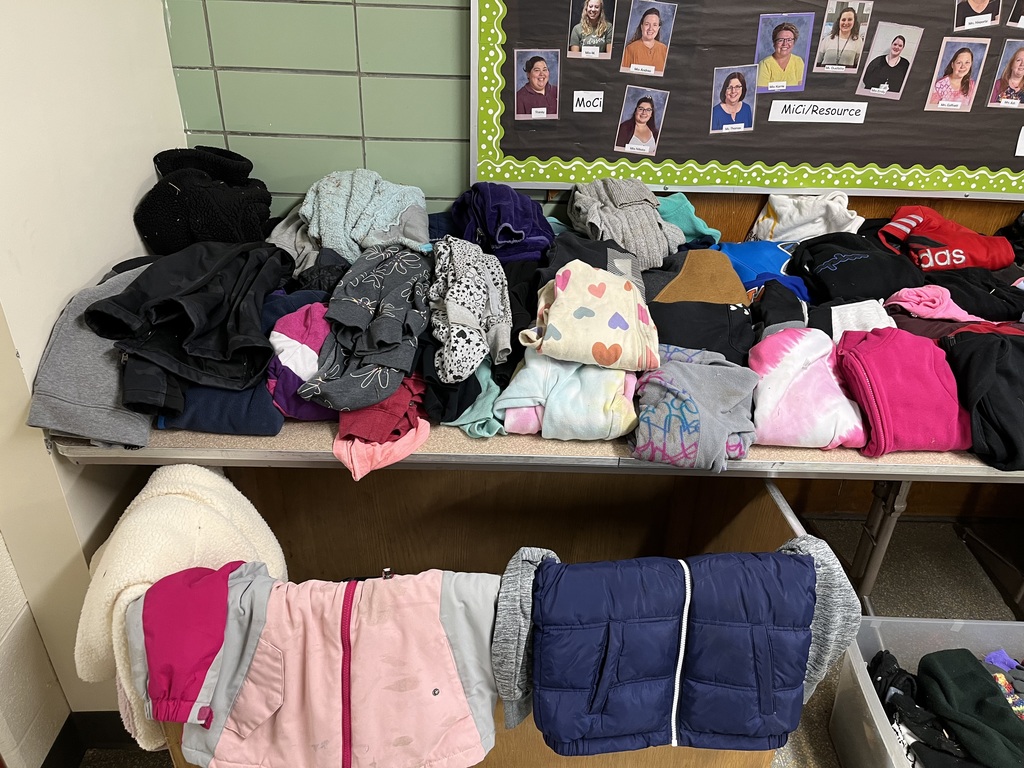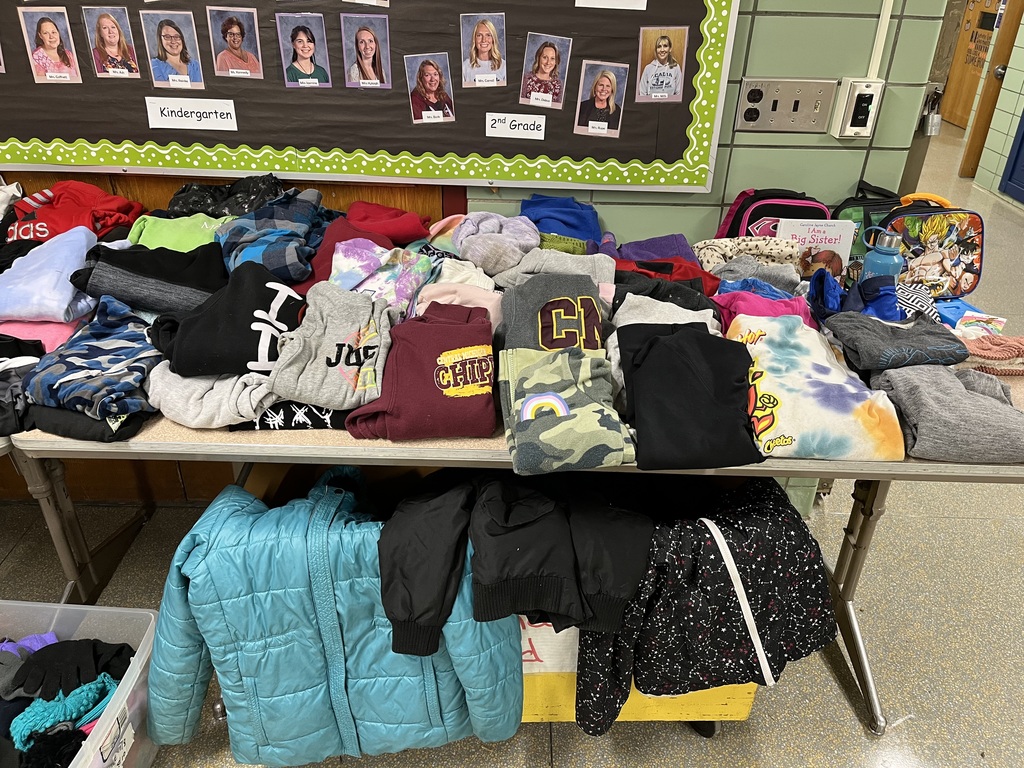 Happy Halloween Panthers! Here are a few more awesome pumpkins from the Pumpkin Picture Project.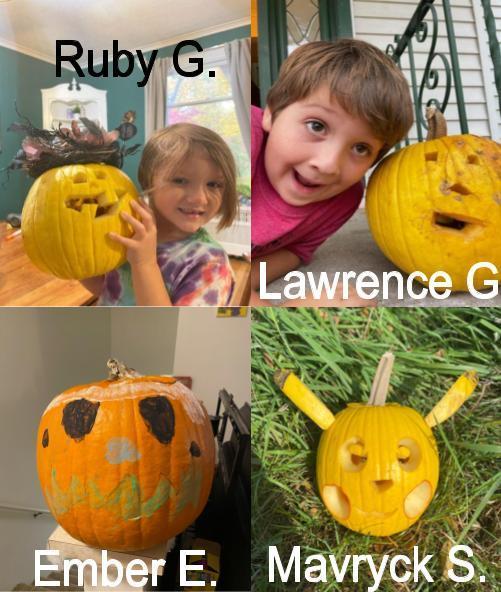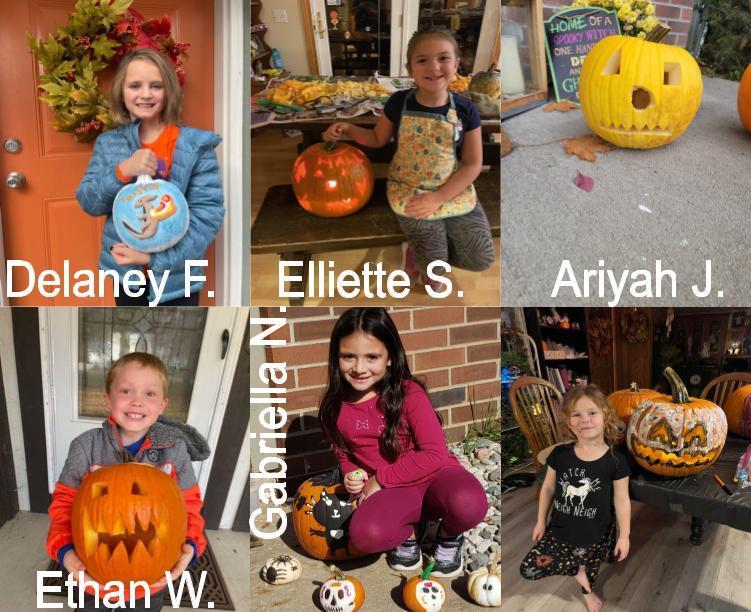 We absolutely love seeing all the pumpkins our students have made with the Pumpkin Picture Project. Check out these awesome creations! Don't forget to send yours in too. Text them to (989) 283-4129 or email to
mstembridge@mp.edzone.net
.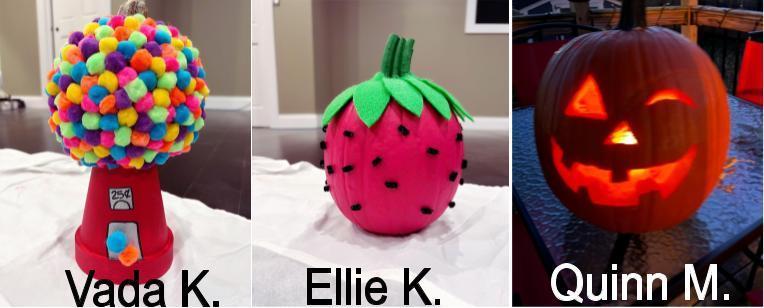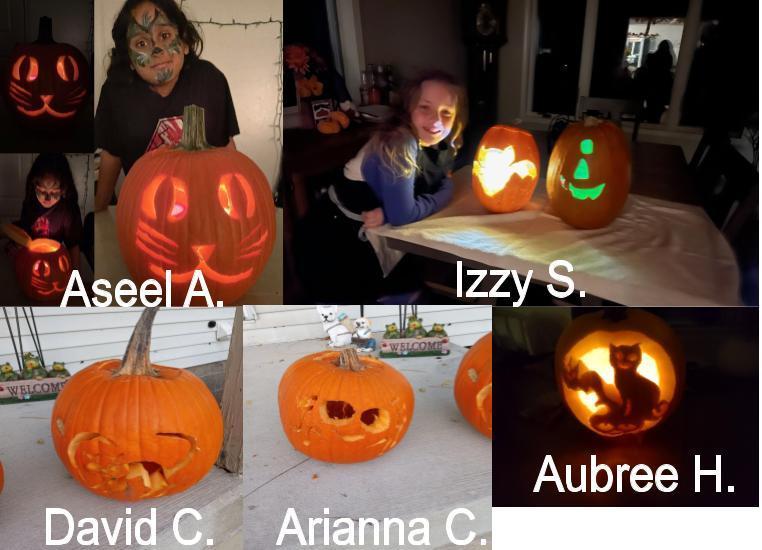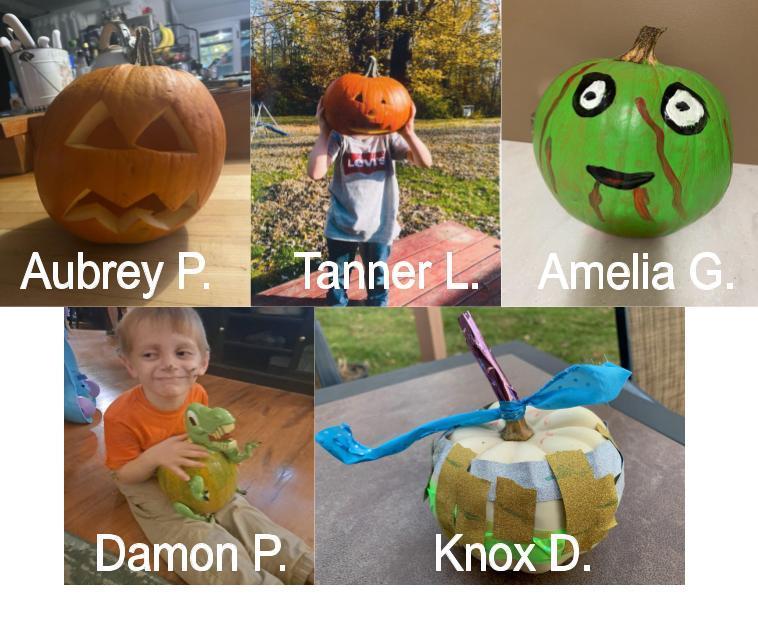 The Halloween parade starts at 9:00 AM on October 31st.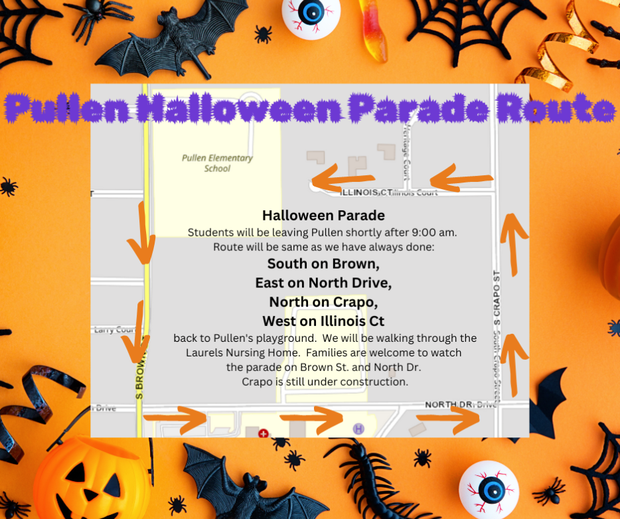 We are so excited to start sharing the pumpkins created with the Pumpkin Picture Project. Families who signed up, don't forget to send in a picture of your pumpkins!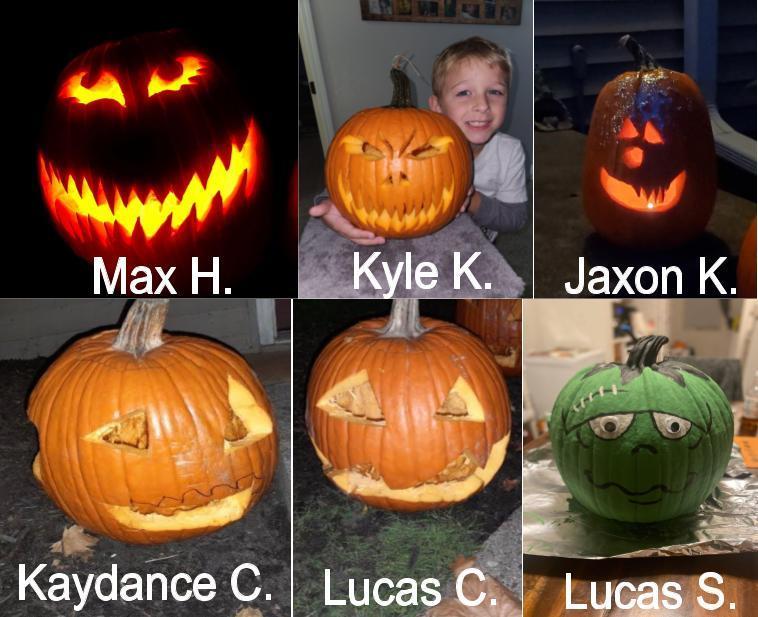 The PTO is sponsoring a Halloween Spirit Week with dress up days.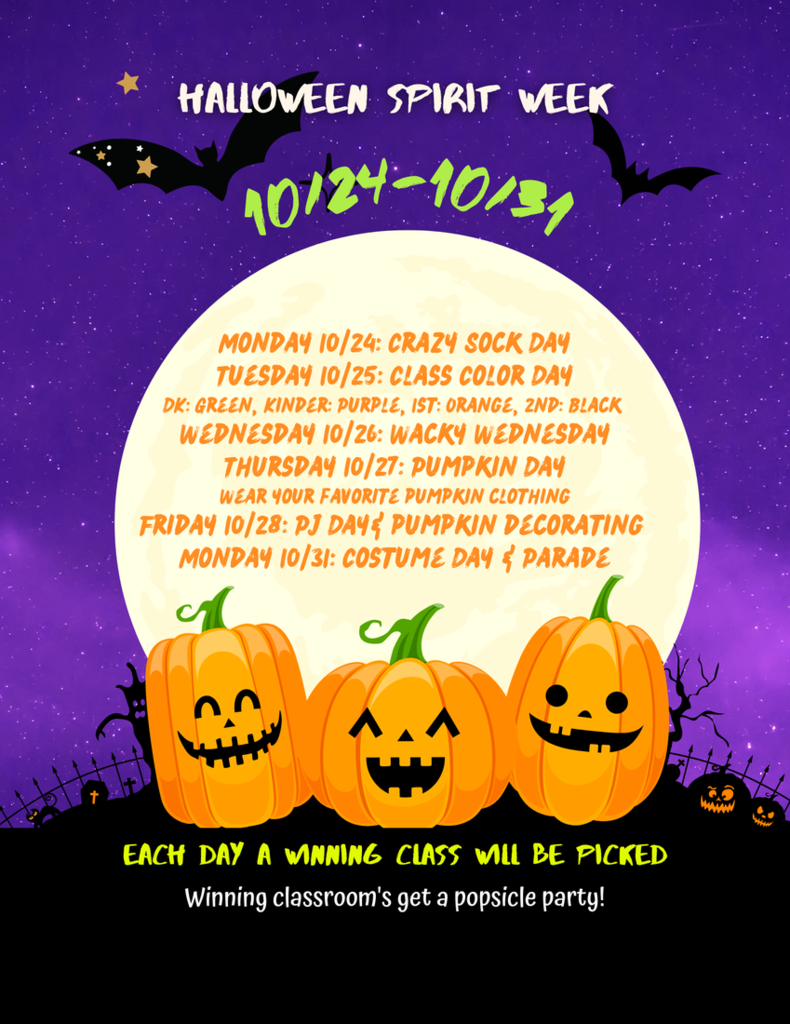 Things to keep in mind for Halloween costumes.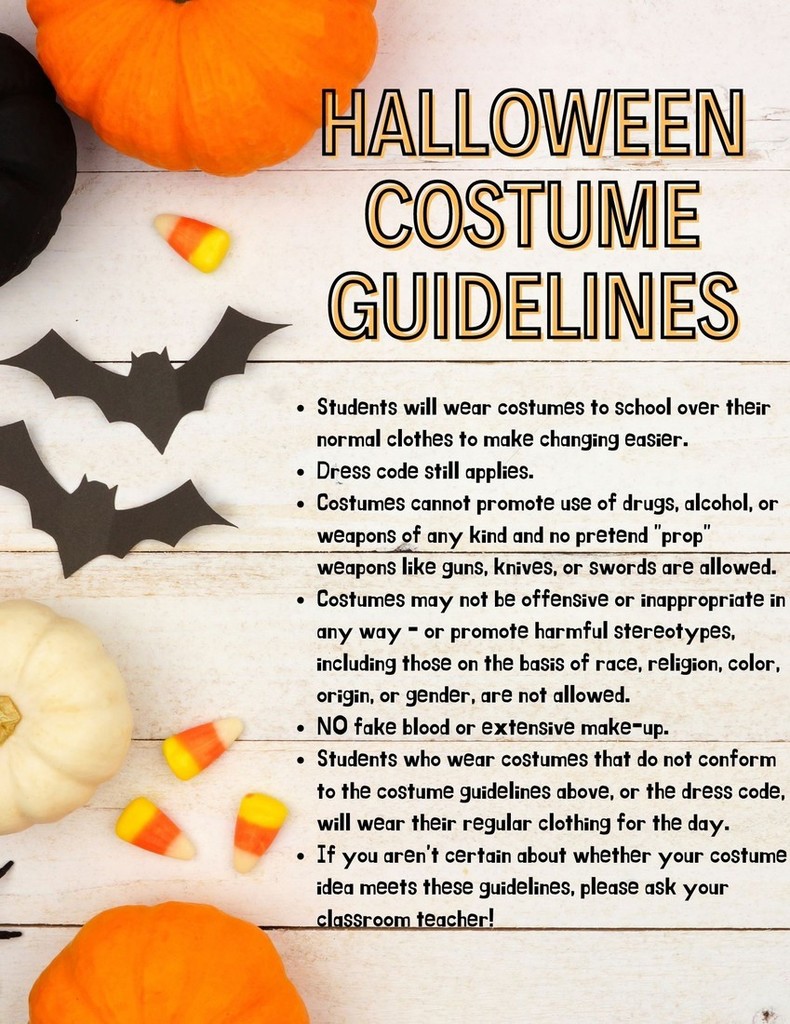 Parents! You can shop at the Pullen Book fair this week Monday through Thursday from 8:00-8:30 a.m. as well as Monday through Thursday from 3:30-4:30 p.m. It will also be open on Friday from 8:00-10:00 a.m. The book fair is located in our Library! Also students will be able to shop throughout the day when their teacher signs up to visit. Don't forget to check out the teacher wishlists! Click here to view the flyer and more information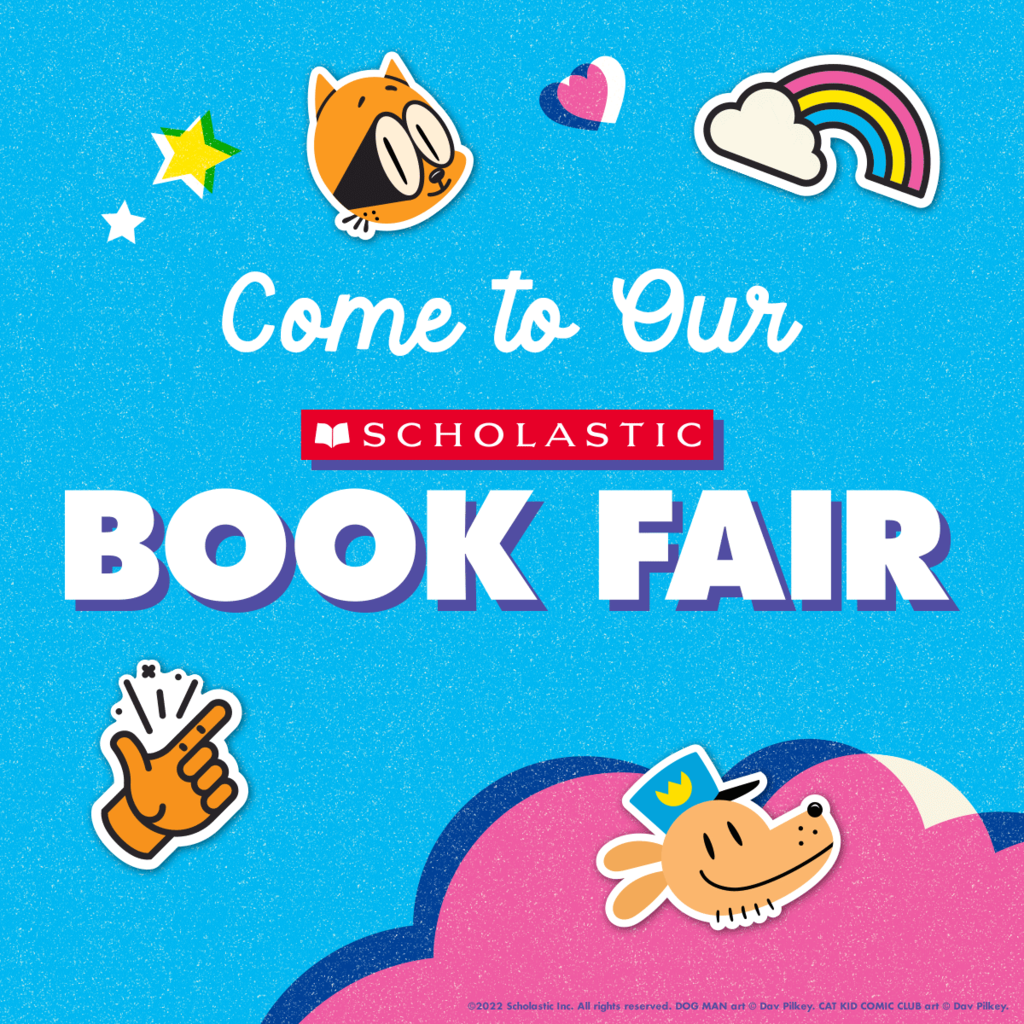 The Mt Pleasant Public Schools is now accepting applications for the open position of Trustee on the MPPS Board of Education. The candidate selected for this position will be appointed to a term that expires on December 31, 2024. Interested applicants should submit their letter of interest to the Superintendent, Jennifer Verleger, by 4:30 p.m. on Monday, October 3, 2022. Applicants should include: -Name and complete mailing address (must reside in the Mt Pleasant Public School district) -Statement of interest in the open position -Professional resume Send application materials to: Jennifer Verleger, Superintendent 720 N Kinney Avenue Mt Pleasant, MI 48858 (989) 775-2301
jverleger@mp.edzone.net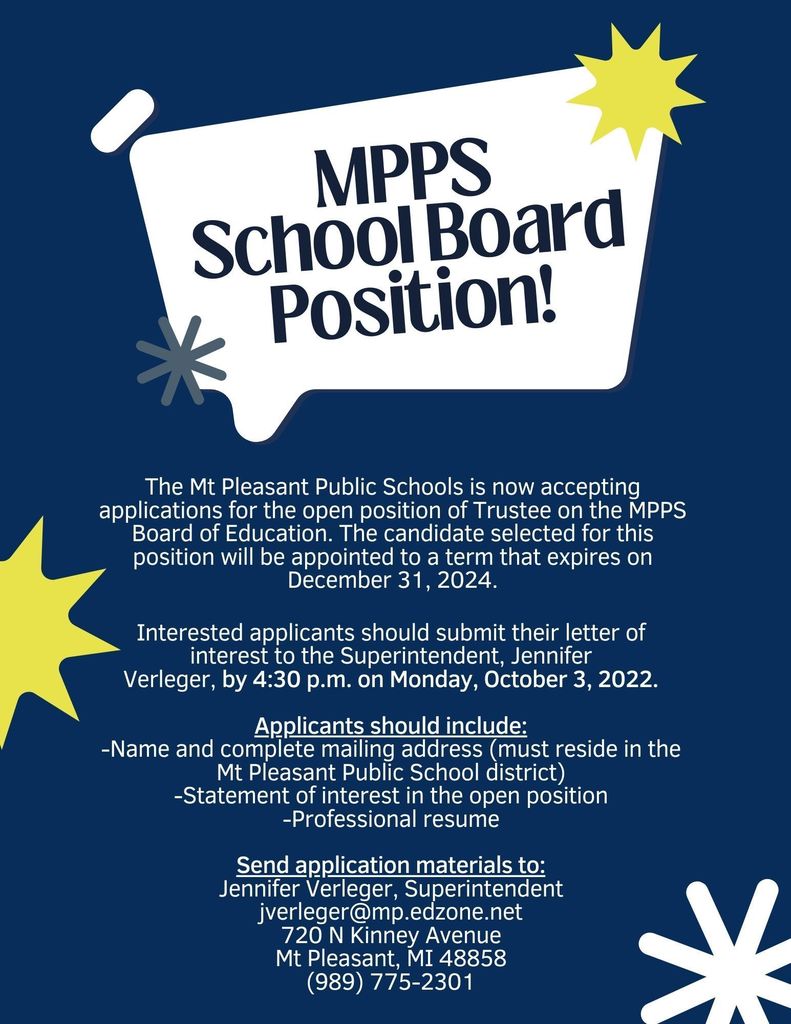 We hope you had a great week, Oilers! Remember - there is no school tomorrow, Friday, August 26, 2022! See you Monday! #OilerPride

Complete the "Free and Reduced Meal Application (Online Form)" by September1 to be entered in a drawing for a chance to win an Apple iPad Mini (K-5 schools). Visit:
https://mountpleasant.familyportal.cloud/
for the online application.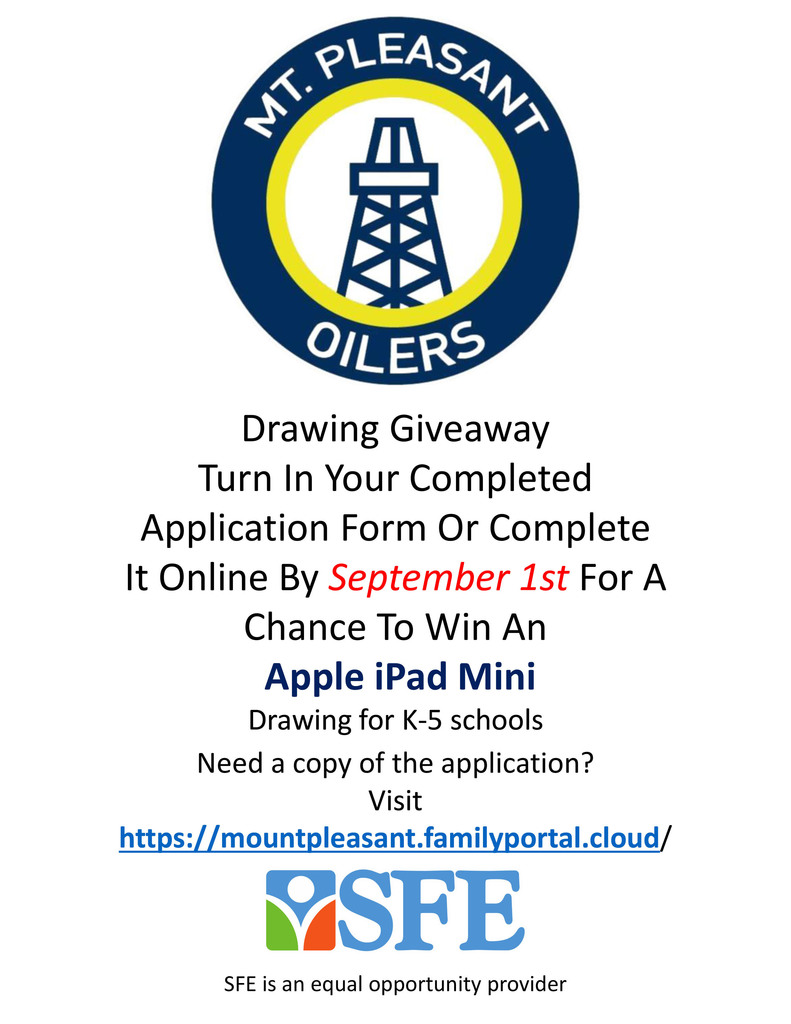 Welcome back, Oilers! Have a great first day of school!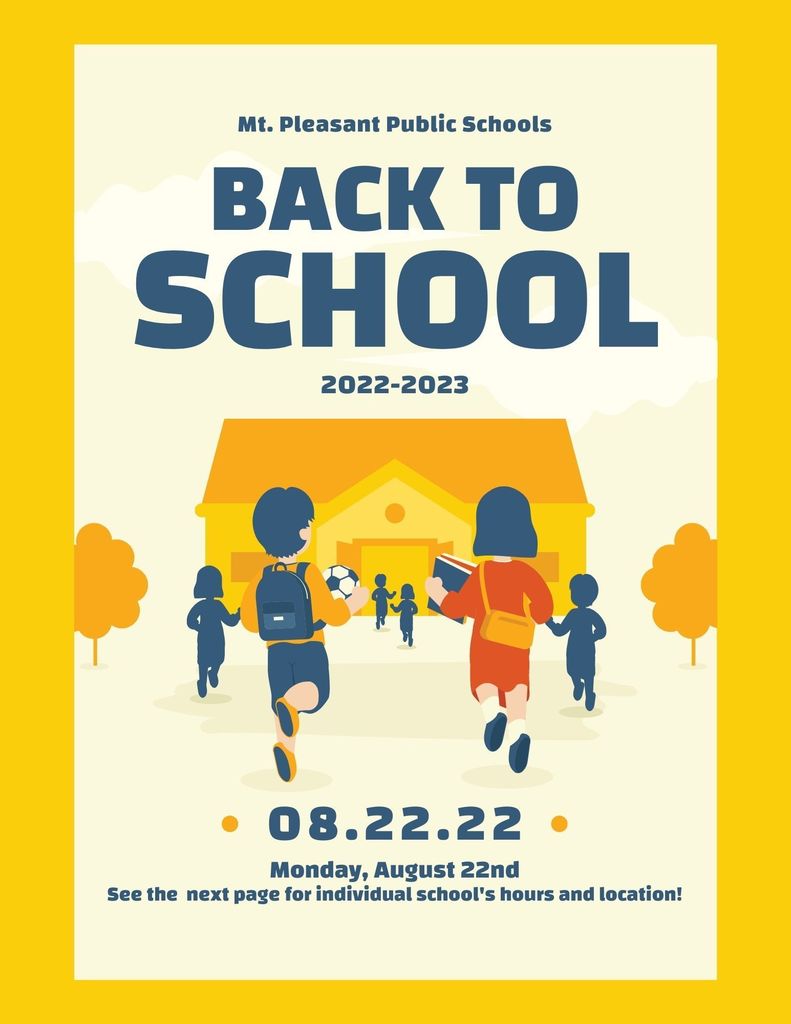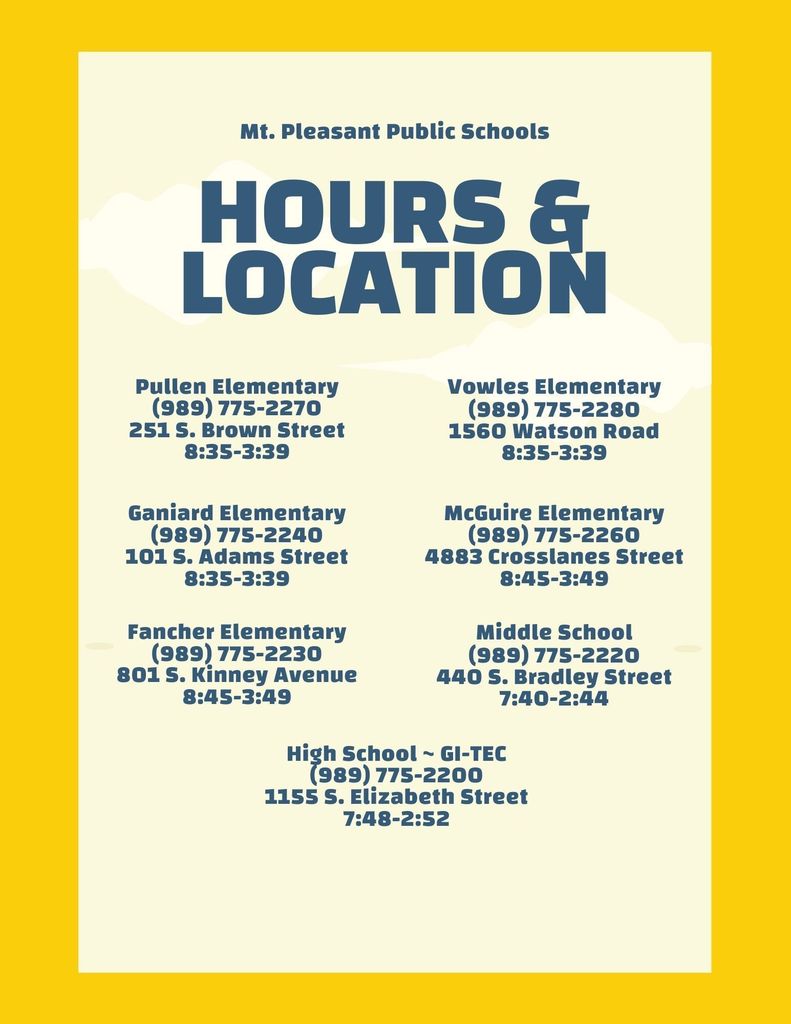 Teacher welcome letters will be mailed the 2nd week in August.

Ganiard, Pullen and Vowles Elementary School Open Houses - August 17, 6:00-7:30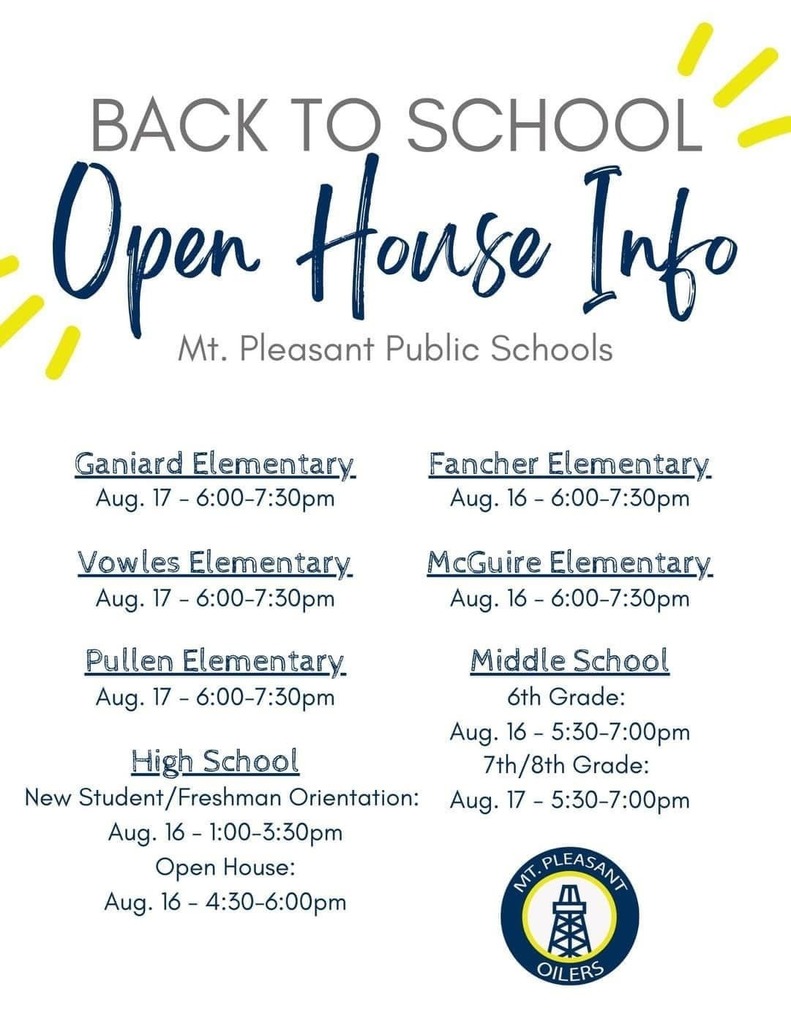 MPPS Summer Food Service Program. Free meals will be available this summer (you do not have to be enrolled in MPPS). Meals will be served on site (and they must be eaten on site) at the following locations: Ganiard, McGuire, Pullen and Vowles Elementary Schools. See the post image for specific dates and times.